Rebuild, redefine, relive, reinvent, recycle are all
part of the Series I call RE. I have been working
on this project for years.
I take empty wine bottles, cut them apart, polish
the edges, frost the glass (inside and out} and
reassemble them into hybrid bottles of various
shapes, sizes, colors and uses.
A few words about color. Each color is technically
unique so variations in the range of a color do
occur. But we do our best to stay within a range
in matching diameters and tones. This is a very
"hands-on" process therefore each bottle is in
essence, one of a kind. The end product is purely
decorative and is not meant to hold liquid. The
bottles come alive when they are backlit with
natural light.
They are not empty, they are filled with joy!

Jerry Kott
all artwork © jerry kott 2013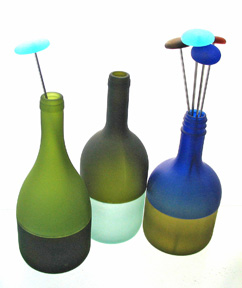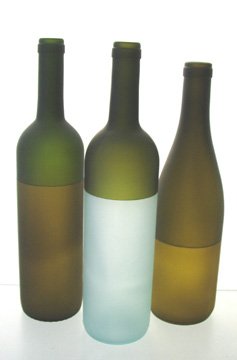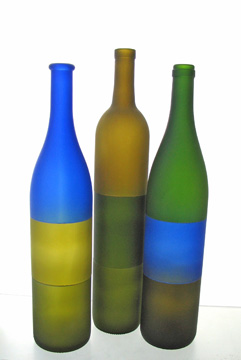 small form 2
9" h x 4" w
$75 each
large form 2
12" h x 3" w
$75 each
baby bottles
7" to 9" high
$66 each
form 3
15" h x 3" w
$130 each
form 5 (left and right)
approx. 20" h
$240 each

form 6 (center)
approx. 23" h
$300 each

assorted striped bottles
13" h x 3" w
$300 each
candleholders
8.5" h x 3" w
$36 each
form 2 vases (flowers sold separately)
7.5" h x 3" w
$85 each
pod vases