These "bellissimos" (beautiful things) are
handcrafted from glass, recycling the
Joy of what was to what is.
The glass is hand-cut and frosted, the
paddle is hand-cut and the main
ingredient is the Love and Joy of
discovery and the energy it exudes.
Bells, chimes and gongs have walked
hand-in-hand with the development of
the bridge between many worlds of
consciousness. In Eastern thought, it is
often considered the beautiful sound of
eternity or the illuminated mind.
In my journey as an artist, designer and
craftsman, I have been awakened by the
sound that travels through us all...
the sound of our oneness. They do
have a very resonant and pretty sound.
Enjoy!
Jerry Kott
all artwork © jerry kott 2009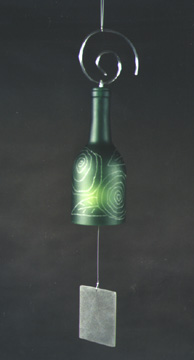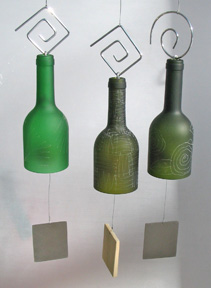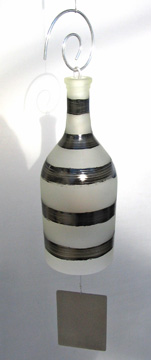 The Bellissimos are one of a kind
hand-cut, polished and etched
(inside and out) glass bells made
from recycled wine bottles. The ringer
is wood and the paddle is hand-cut resin,
aluminum or cedar wood. The cable is
braided stainless steel teflon-coated,
the ringer is a wooden ball and the spiral
is 1/8" hand-bent aluminum. The paint
is baked on. Slight variations occur in
the length of the glass bells.
The two sizes are:
• small with a glass length of 7-1/2";
overall length is 17"
• large with a glass length of 10";
overall length is 20"
The Bellissimos are available with three
distinct patterns that are hand-etched
and hand-engraved onto the glass bells.
The patterns are the rose (spiral-like motif),
cosmos, pine and fallen leaf. The colors are
amber, olive, emerald and clear frosted.
Every bell is signed by the artist.
large bell in
olive
with "cosmos" motif and cedar paddle
$120
large bell in emerald
with "pine" motif and
cedar paddle
$120
large bell in amber
with "rose" motif and resin paddle
$120
small bell in emerald with
"rose" motif and resin paddle
$63
assorted small bells in
different motifs
$63 each
detail of small bell in olive with "fallen leaf" motif and cedar paddle
$63
ART
PEACE
clear frosted with resin paddle
$120
says "The wind is like
love, you can't always
see it but you can
always feel it"...
clear frosted with
resin paddle
$120
striped bell with
resin paddle
$120